Start your brilliant, Shopping Website Today!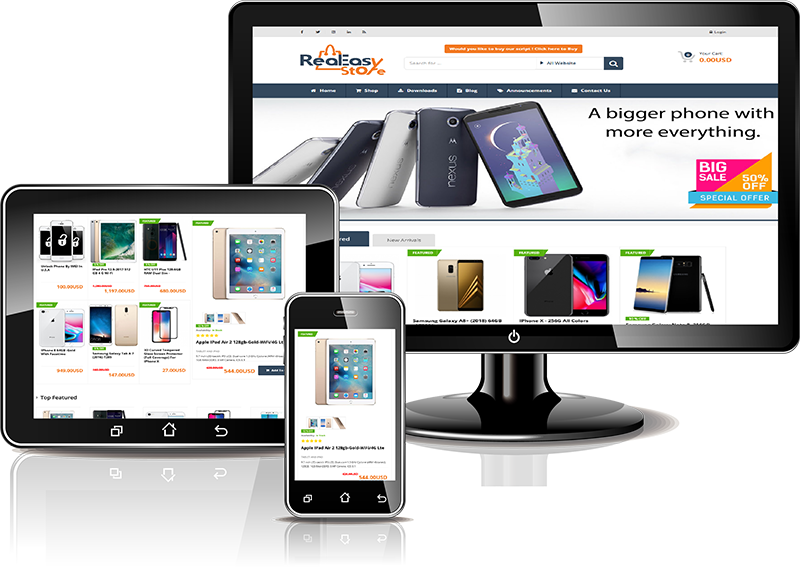 Based on joudiSoft's framework. Real Easy Store is a comprehensive eCommerce platform fitting every merchant's needs: it powers both corporate and small business sites all over the world, companies selling physical and digital goods. Real Easy Store is a transparent and well-structured solution, it combines best features of easy and powerful software.
Real Easy Store offers a set of features and capabilities to create an online store. It includes all the necessary tools, and we always adding new features to the list, so check out our roadmap or contact us to find out what's in the pipeline.
Sell physical, digital or downloadable products easily
Ability to sell cards and digital info ( Auto Email Delivery )
Smart management ( copy, cut, paste, shortcuts.. etc )
Ability to set wholesale and user groups pricing for each product
Billing, Orders, transactions and invoices management
Articles / Blog and announcements sections
Reviews, comments, coupon codes and maketing tools
Powerful users and permissions management
Sell downloads, bandwidth or quota packages
Smart taxes and shipping rates management
Mail templates, Bulk Mails and E-mail tools
Multiple online and offline payment gateways
Multilingual with smart item / object translation
System control, API and developer support
The major feature of Real Easy Store, in fact it's the most easy selling platform ever, it combines both powerful and easy management tools, based on the applied license version you can sell products, digital products, files anything else you sell.
In order to install Real Easy Store, please make sure your webhosting adaptable with the following requirements.
Accessable Domain Name
PHP 7.1 or Higher
Latest ionCube Loader
PHP cURL Library
If you don't know your web hosting is applicable or not, feel free to Contact Us






Need Help? Contact Our Support Team 24/7  Click Here